Chishang 池上 (also written Shishang) was one of the highlights of my trip to the east coast of Taiwan.
Judy, my ex-Taiwanese colleague from Beijing introduced me to this town, located in Taitung county. We had met up last November in a lovely pastry/coffee shop in Taipei (My Sweety Pie, a must go if you are into home made cakes!) and she had just returned from a quick trip to Chishang, where her father currently lives. It took me one or two pictures from her iphone to convince me to make a stop to this beautiful town.
Top 5 reasons to go there:
1. If you are looking for lovely bike rides in beautiful mountain/rice fields landscapes, Chishang is the place to go.
2. While it is quite touristic among Taiwanese people (and mainland chinese ), it still remain unknown among westerners. Typical guides such as Lonely Planet don't really mention about this town and the English google search results are limited. The less touristic the place is, the more interesting it becomes!
3. Valid for the whole Taiwan...but the people there are especially kind and generous
4. Famous for its rice, expect delicious meals there!
5. Its location between Hualien and Taitung is convenient if you are traveling to the East Coast of Taiwan and the access, very easy.
How to get there: I was in Hualien before going to Chishang so I took a train from Hualien train station. The train ride is about 2h. No need to book in advance. Make sure to arrange a car pick up from Chishang train station if you arrive late at night
Where to stay: Located in the center of the town, Chishang Hostel was one of my best experiences in terms of accomodations in Taiwan. Lulu has been a wonderful host (more about it in a next post). 500NTD/Night - Lulu - lomo8899@gmail.com, 09 55 89 52 88
Duration of the day: Depending on what you are looking for. Chishang, to me, is perfect for a short stop between two other cities to explore (for ex, Hualien and Taitung) - 2-3 days are enough.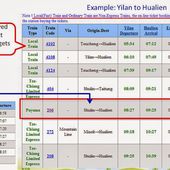 It is also asked about the transportation between Taipei and Hualien. For sure, railway is the most common transportation.But there are some useful tips and alternatives. Tze-Chiang Limited Express
http://taiwan-itinerary.blogspot.fr/2013/04/HualienTaipeiTransportation.html
Very helpful post about
Online booking - train tickets